I am not a massive social media person: I am not on Twitter; I find Facebook has become too cluttered; I don't yet understand Periscope. But Instagram … I love it.
Why? Well, I feel that people put more thought into their pictures. I like that you don't have to read people's oversharing posts. I love that there are no advertisements and I enjoy getting a little insight into people's lives – literally snapshots. 
But you do have to pick who you follow wisely, so here are my top ten accounts to follow as a secondary English language teacher. (To find them on Instagram, just search the names given below) 
---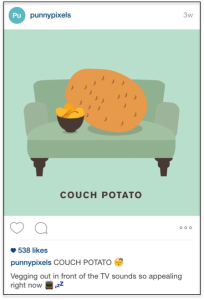 1.PUNNYPIXELS 
Which English teacher doesn't love a good pun? This account has clever, witty and endearing word plays. What's more, the images used are visually stunning; I am in love with flat design at the moment, and the cute drawings and pastel colors are sublime. Plus, these puns are great to stash away and use in class when you really want to see some teenagers roll their eyes!
---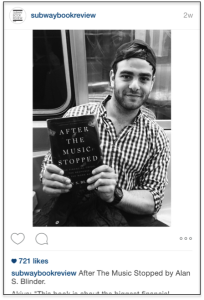 2.SUBWAYBOOKREVIEW
The concept behind this account is genius. Photos are taken of average people on the subway with the book they are currently reading, and they give a short review in the comments. I love that you can see the types of books which people are reading on the subway (and you may be surprised), and the short reviews are often insightful and genuine. Definitely follow this account if you are a reader – it's like getting to see what's on the nightstand of strangers.
---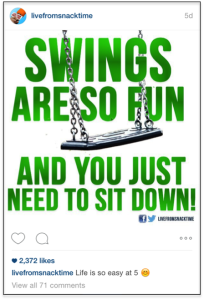 3.LIVEFROMSNACKTIME
This hilarious (and beautifully displayed) account, records the funny things that can be heard in the school cafeteria. It may seem like a strange one to include on the list as most of the quotes come from elementary students, but I still love 'em! Plus, I think we can all agree that even our teens come out with the some pretty funny comments. What's also great is that they take submissions; I challenge you to send them some of the crazy comments your secondary students come up with – let's see some high schoolers representing.
---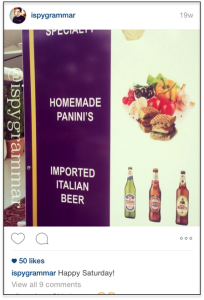 4.ISPYGRAMMAR
This account is managed by a freelance editor with an eye for grammar fails. She documents examples of grammar errors which she comes across in her daily life: many particularly humorous, some just downright cringeworthy! I think that you will enjoy following her as you can share in her frustration and be reminded why your job as an English teacher is so vitally important.
---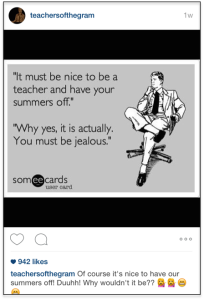 5.TEACHERSOFTHEGRAM
Let's get real: our jobs are hard. we all need a little humour to lighten the stress and make use smile. This account will definitely serve that purpose. There are many Instagram accounts which have teacher humour, but this one is my favourite. Get funny memes, quotes and pictures to make you smile and brighten up your day.
---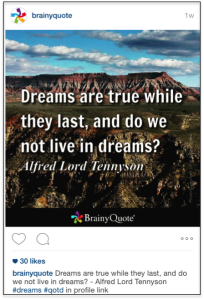 6.BRAINYQUOTE
This account is administered by the website of the same name and post pictures with inspiring, touching, thought-provoking quotations. I love to get daily inspiration through following this account, and get my daily dose of words from wise people. Also, I often read a great quote on this account and then just write it up on the board to get students thinking and to prompt discussion.
---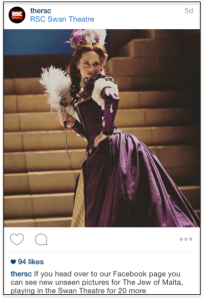 7.THERSC
Ok, so this one may not be for everyone. But if you love all-things-shakespeare, then do check it out. The account is administered by The Royal Shakespeare Company (based in the playwright's home town of Stratford-upon-Avon) and they post behind the scenes pictures from plays, images of costumes and props and even historical artifacts. I follow this account to get transported into Shakespeare-land, no matter where I am.
---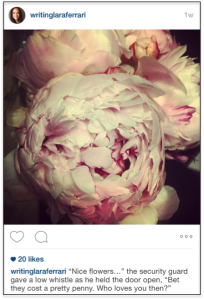 8.WRITINGLARAFERRARI 
This is a relatively new account, but it promises great things. This Instagrammer is also a writer and she posts pictures which inspire her, with short stories based on the pictures in the comments. I often use pictures as writing prompts in my classroom, so this account has fantastic examples to read and use in class, or for writing inspiration.
---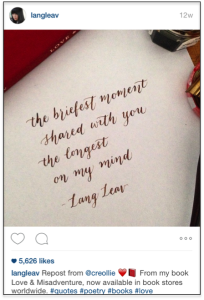 9.LANGLEAV
What list of interests for an English teacher would be complete without some poetry? This is at the popular (over 95k followers) account of the poet Lang Leav. There are beautiful images, extracts from her poetry and pictures of her books and writings. Her words are whimsical, thought-provoking and endearing, and if you follow her on Instagram you also get to see them in artistic pictures and with stunning surroundings.
---
10. STACEY.LLOYD 
Of course I had to throw in my own account here! Do follow me on Instagram – I mostly post pictures of my travels and daily life, but also include pictures of my products and blog posts, and a few behind-the-scenes pictures of my home office and product creation. I would love to connect with you on Instagram, so please do join me over there.