Looking for some great tips to re-invigorate your teaching this school year? Look no further…
The amazing top sellers at TeachersPayTeachers have put together an incredible eBook for Grades 6-12 English Language Arts, which is jam-packed full of great teaching tips, links to free products and ideas for the new school year. Click on the image below to check it out, and you should find my page on page 18 of the book.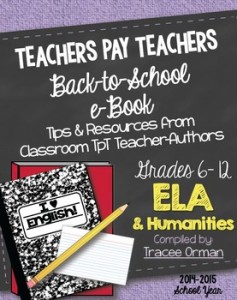 A big thank you to Tracee Orman for all her hard work putting this together.