There is this one classroom management idea which has stuck in my mind all year. I blogged about it months ago and yet it continues to be my most viewed post by far. Clearly it is an idea which grabs teachers and gets them excited. So as we look ahead to the next school year, I thought I would share it again.
The idea is this: If you can grab your students' attention in the very first five minutes, you will have them hooked for the remainder of the lesson. So make those minutes count!
We all know that first impressions matter, and that definitely applies to a lesson. I find that my teens often come into class unwillingly, lacking energy and enthusiasm. It then becomes my task to get them interested in the topic (and that's no small feat when the topic is verbals).
Over the summer, why not think about ways to hook their attention in those introductory moments? Keep a notebook nearby and as great ideas come to you, jot them down – come August, you will have a whole tool kit full of ideas for inciting enthusiasm. Anything which will shake students out of their comfort zones and displace their expectations will do: play music as they are entering the classroom; rearrange the desks; have a thought-provoking statement written on the board; play a game.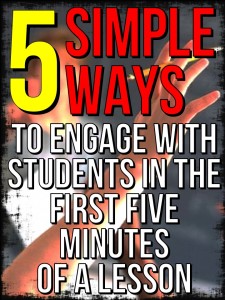 You can hop on over to my other blog post here (where I give 5 tips for grabbing students' attention), but for now I just want to prompt you to think about the importance of those introductory moments in class and ways in which you can make sure you don't lose your students' precious attention in those minutes. Also, I would love to hear all of your creative ways in which you start your classes… I know you have them! Please do leave them in the comments below.
One great way to grab students' attention is to use media in the classroom. You may want to check out my Analyzing Music Videos Products (now with volume I and II). These lessons all start with watching a current music video, and then all meaningful activities stem from there. I love these lessons and they are probably my favourite products in my store! So do check them out…