I have recently taken a break from work. It is the summer holidays, so a fitting time for a teacher to take some time off. Yet I have also stepped away from product development for a while too, and for good reason – my beautiful sister's wedding.
However, this didn't actually mean 'time off'! My sister has been tracking my work on TeachersPayTeachers and seeing my graphical skill base develop and so decided that she could definitely put all of this to good use! So here is a small insight into what I have been busy with over the last month; I hope you like the pictures!
The Bachelorette Party:
This was such fun! The theme was 1920s glamour. We planned three events for the day – boys versus girls laser tag in the forest, a glamorous afternoon tea and a night out on the town. My fellow bridesmaids and I did all the décor ourselves and it turned out to be a truly wonderful day.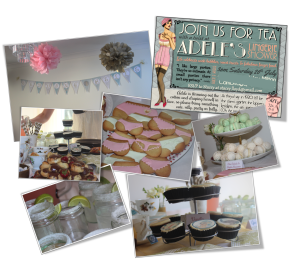 The Stationery:
From the invitations to the name places to the order of ceremony, I delighted in doing all of the stationery of the big day. Instead of having a color scheme for the wedding, my sister had more of a 'theme scheme', which was succulents! The wedding took place on a vineyard in South Africa, and it all fitted together beautifully.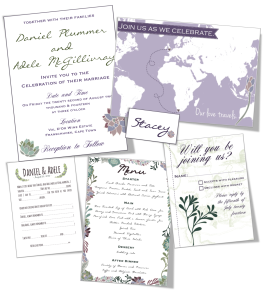 The Cake:
Who doesn't love cake? And I got the privilege of baking a whole lot of it. When my sister first got engaged she excitedly asked me if I would consider making the wedding cake; to which, of course, I agreed (by now you should have worked out that I have an inability to say 'no'!) Then came the list of requirements: at least three tiers; no fruitcake; no chocolate; no nuts; and one layer had to be gluten free…!
I spent many months testing out all sorts of cakes (much to the delight of my husband's colleagues) and eventually settled on gluten-free red velvet cheesecake for the top, a Madagascan vanilla and strawberry cake for the centre, and lemon and poppy seed for the base layer. I kept the exterior simple, with clean fondant icing and decorated with roses and succulents made from icing (definitely the most challenging aspect!).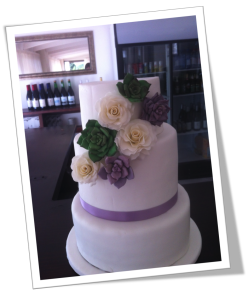 And now that the wedding is over, I am not entirely sure what to do with myself – time to get back to product development I think! 🙂