I need to confess something: I am a sucker for good advertising.
True store.
I am ashamed to admit it but just last week I ventured out to the grocery store to buy a mop I saw in some you-can't-live-without-it commercial. Luckily, I wasn't able to find said-wonderful-invention and so with a relieved wallet I returned home and cleaned my floors with my traditional – through apparently vastly inferior – mop.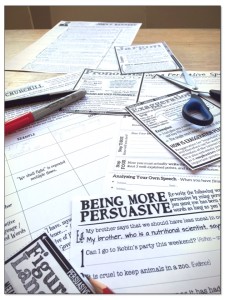 The fact is, advertising is  unashamedly persuasive. The lists of threes, the use of jargon, the hyperbole, the emotive adjectives, the use of pronouns – it all sucks me in and has me wanting things I probably don't need.
But despite my struggle to avoid wasting money, I love teaching persuasive language techniques. It is wonderfully relevant and students can apply their knowledge in their everyday life. I find that my students, equipped with the knowledge of the various tricks and techniques, start to become critical readers and listeners and love to identify techniques in use around them, from political speeches to print advertisements.
Why not take a look at all the resources I have created to help teach persuasive techniques? (See what I did there with that rhetorical question?!)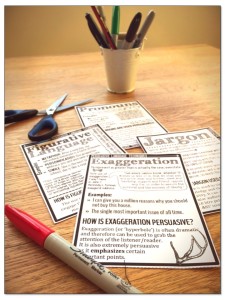 I know that I am biased, but this is probably my favourite resource in my whole store! Seriously, I indulged my design junkie with this one and created little mini poster like notes for 20 different persuasive language techniques. I went with a hipster-inspired design (equipped with stag horns and wayfarer glasses!) and tried to pack as much useful information into these!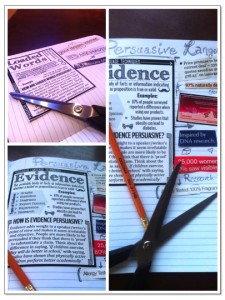 Tip for use: What my students really love is to stick these in their books (one in the middle of the page) and then create a collage as extracts from magazines to demonstrate each technique in use. These look fantastic and are such fun to do. 

IDENTIFYING PERSUASIVE TECHNIQUES IN SPEECHES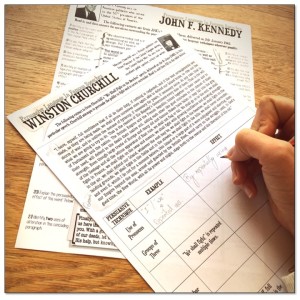 One of the places we see persuasive techniques used effectively, is in political speeches. They abound in them. In order to be informed, critical citizens, students really do need to be able to critically listen to speeches and be able to identify techniques of persuasion. This product helps them learn from the best with speeches from Winston Churchill, John. F. Kennedy, Barack Obama, Emmeline Pankhurst and William Wilberforce. *This resources also comes with ideas and tips for using these worksheets in the classroom. 
UNDERSTANDING PATHOS, ETHOS AND LOGOS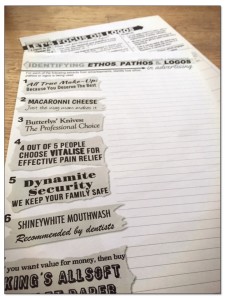 These three techniques are the barebones of persuasion. It is vital that students are able to identify them and then be able to employ them in their own writing. These worksheets guide them through the process of understanding, to identification and then to application. Plus they are fun and attractive with examples from advertising slogans and writing.
***HOW ABOUT A FREE PRODUCT?***
Want to see what these are all about? Grab my FREE resource here.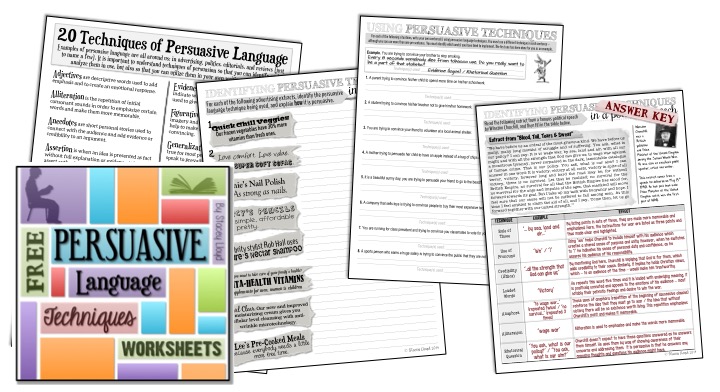 I do hope that these resources help you teach persuasive techniques and writing, and I hope that you have fun doing so!